Corn Farmers Use Fox Ads to Appeal to Trump in Biofuel Fight
Source: By Mike Dorning, Bloomberg • Posted: Friday, June 21, 2019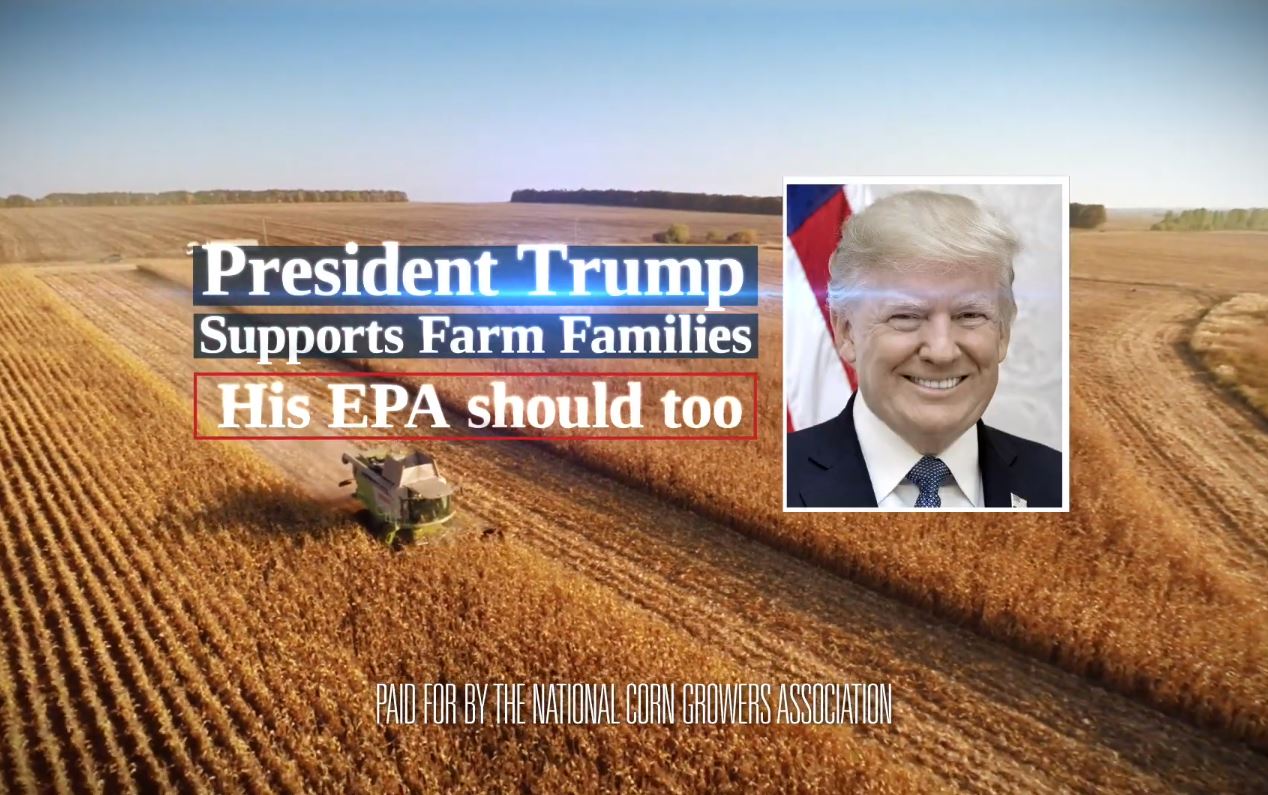 The National Corn Growers Association launched an advertising campaign on President Donald Trump's favorite television news source to step up pressure on the administration to curb exempting oil refineries from biofuel requirements.
The ad, airing on Fox News in Washington, calls on the Environmental Protection Agency to halt "special favors to oil companies" and "stop betraying President Trump's commitment to farmers."
The ads began airing Thursday and will continue into next week, according to a statement from the group. Liz Friedlander, a spokeswoman for the corn growers, declined to provide more information on the size of the ad buy.
The waivers the EPA has been issuing on compliance with the Renewable Fuel Standard pits two factions of Trump's political base — farmers and oil companies — against each other as the 2020 presidential election approaches.
When Trump visited an ethanol plant in Iowa last week, Kevin Ross, a farmer and official with the corn association, speaking inches away from Trump, pleaded with the president to curb waivers that exempt refineries from complying with the mandate. The ad includes video of Ross's comments.
Trump didn't address Ross's waiver remarks on stage at the Southwest Iowa Renewable Energy LLC distillery in Council Bluffs, Iowa.
Read More: Farmers Use Trump Visit to Chide Administration on Waivers
The mandate compels crude processors to blend biofuels such as ethanol and biodiesel with petroleum, thereby boosting corn demand. Federal law authorizes the EPA to issue exemptions for small refineries facing a "disproportionate economic hardship," and biofuel proponents argue the administration has handed out the waivers too freely.
Scott Irwin, a University of Illinois professor of agricultural economics, estimated in a March 2019 study that refinery waivers reduced demand for biodiesel by 2.5 billion gallons from 2016 to 2019, causing a cumulative $7.7 billion loss in the market for the biofuel.
Trump's political opponents have pounced on the refinery waivers, with Democratic presidential hopefuls — among those Amy Klobuchar and Kirsten Gillibrand — blasting the exemptions.
Waivers are handed out "in secret to help some of the largest oil companies and refiners evade their compliance obligations," Klobuchar, Gillibrand and 10 other senators said in a letter to EPA Administrator Andrew Wheeler.
— With assistance by Mario Parker, and Jennifer A Dlouhy