Corn Ethanol Emissions 43 Percent Lower than Gasoline
Source: By Jessie Stolark, EESI • Posted: Saturday, January 14, 2017
A Life-Cycle Analysis of the Greenhouse Gas Emissions of Corn-Based Ethanol
."  The report finds that over a ten-year period (2005 – 2015), production of corn-based ethanol is approximately 43 percent lower than gasoline. If production efficiency and farm conservation trends continue, the forecasters expect corn ethanol's carbon footprint to be nearly 50 percent lower than gasoline by 2022.   These findings provide further argument for 
EPA to update its own life-cycle assessment of ethanol
, as the agency was directed by the Inspector General last August.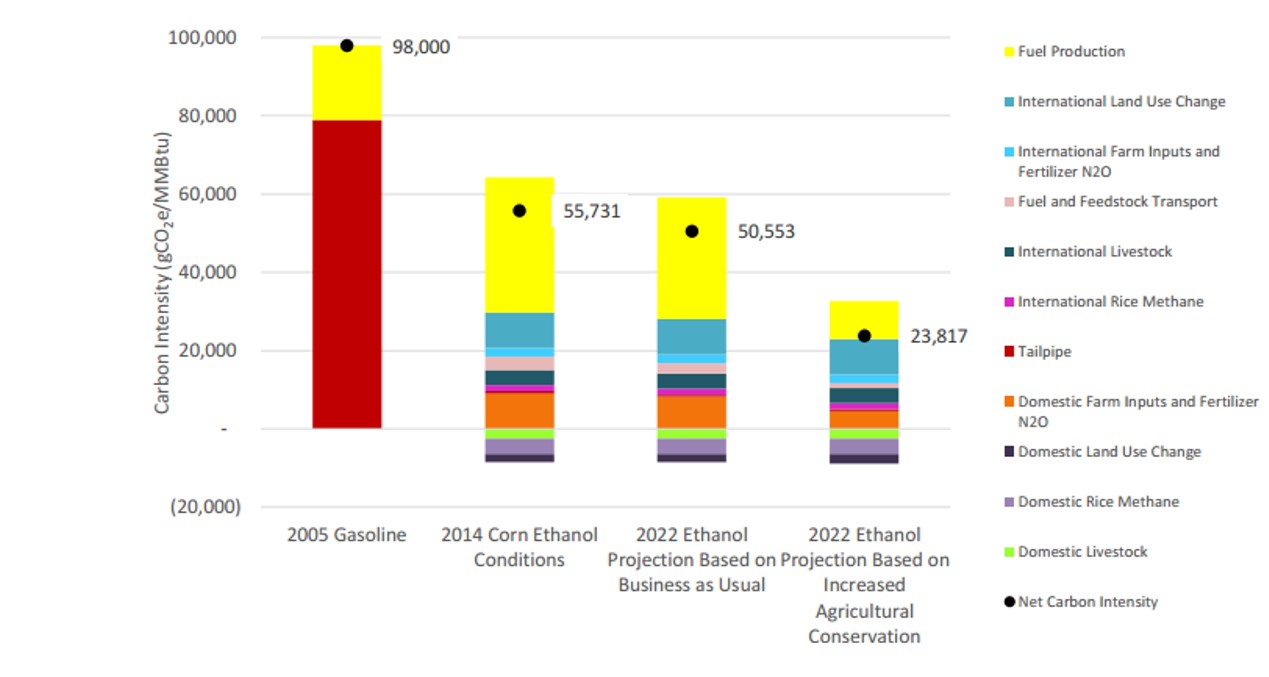 Carbon intensity of biofuels versus 2005 gasoline (Courtesy of USDA). 
The Renewable Fuel Standard (RFS) mandates that corn ethanol must achieve greenhouse gas (GHG) reductions of 20 percent, relative to petroleum-derived gasoline. Advanced and cellulosic biofuels must attain 50 to 60 percent GHG reductions, respectively.  In the ten-year period since the passage of the RFS, ethanol production has risen from 3.9 to 14.8 billion gallons per year.
USDA's life-cycle analysis findings are similar to forecasts made by modelers at the Department of Energy's Argonne National Lab.  According to Argonne researchers, corn ethanol can reduce life-cycle GHG emissions by 19 to 48 percent, depending on farm management and practices at the ethanol plant.  Further GHG reductions of ethanol are due to a variety of processes throughout the production of biofuels, including greater energy efficiency, increasing yields per acre, decreasing water and fertilizer inputs, as well as co-products.  According to USDA, other land use trends, such as the more efficient use of farm land overall, has also contributed to the improved GHG footprint of ethanol.
USDA estimates that current conservation measures on the farm, including reduced tillage, cover crops and nitrogen fertilizer management have reduced the GHG footprint of corn ethanol by 14 percent.  Additional conservation and efficiency measures could further improve the GHG profile of corn ethanol to just 24 percent of gasoline's GHG content.
According to outgoing Secretary of Agriculture Vilsack, "This report provides evidence that corn ethanol can be a GHG-friendly alternative to fossil fuels, while boosting farm economies." The direction of the Renewable Fuel Standard (RFS) under the Trump administration will likely be a line of questioning in next week's confirmation hearing of Scott Pruitt, Trump's pick to lead the EPA.  The Pruitt nomination sent the biofuels industry into apoplexy, due to his close ties to the oil industry as Oklahoma Attorney General and his sour view of ethanol and the RFS.  Several Republican lawmakers met with Pruitt last week, in an attempt to secure assurances on the future of the program.
For more information see: 
A Life-Cycle Analysis of the Greenhouse Gas Emissions of Corn-Based Ethanol, USDA
Midwestern senators meet with Trump's pick to lead US EPA, Biodiesel Magazine