Corn Advances as USDA Report Shows Stockpiles Trailing Forecast
Source: By Jeff Wilson and Megan Derision, Bloomberg • Posted: Monday, October 3, 2016
Inventories of corn on Sept. 1 were 1.738 billion bushels, the U.S. Department of Agriculture said in a report Friday. The average estimate of analysts in a Bloomberg survey was 1.754 billion. Use of the grain over the previous three months climbed 9.2 percent from a year earlier, the agency said. Soybean stockpiles also trailed forecasts as use rose 55 percent compared with the same period last year.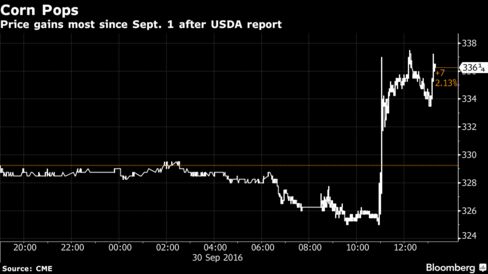 U.S. corn and soybean exporters have seen increased demand after adverse weather hampered crops in South America. Low prices for the grain may also be enticing livestock producers to increase use of the commodity in feed for animals. The Bloomberg Grains Subindex dropped 14 percent this quarter as U.S. farmers begin collecting record corn and soybean harvests.
"Corn consumption was stronger," Dale Durchholz, senior market analyst at AgriVisor LLC in Bloomington, Ill., said in a telephone interview. "We knew exports were up and ethanol grind was larger, but the feed use proved better at the expense of reduced wheat in feed rations."
Chicago Trading
On the Chicago Board of Trade, corn futures for December delivery rose 2.3 percent to close at $3.3675 a bushel as of 1:20 p.m. local time, the biggest gain for the contract since Sept. 1. Soybean futures for November delivery climbed 0.4 percent to $9.54 a bushel. The corn contract dropped 9.3 percent this quarter, and soybeans fell 17 percent.
Wheat rose after the USDA said farmers will harvest a smaller crop than expected by analysts. U.S. farmers will collect 2.31 billion bushels, down from 2.321 billion forecast in August. Spring-wheat production was cut to 534 million from 571 million estimated in August, the USDA said. The agency will update its world crop outlook on Oct. 12.
"One big surprise was the smaller U.S. spring-wheat crop," Durchholz said. "That might have implications for the corn and soybean crop estimates USDA will release" next month, he said.
In Chicago, wheat futures for December delivery gained 0.8 percent to $4.02 a bushel, paring the quarterly loss to 14 percent.