ClearFlame ethanol trucks roll out next month in Texas
Source: By Tom Quimby, Commercial Carrier Journal • Posted: Thursday, May 25, 2023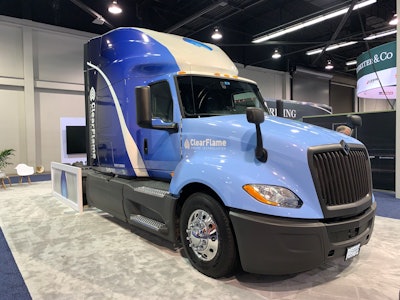 As most carbon-cutting efforts in Class 8 continue to focus on costly and complicated transitions to all-electric and hydrogen fuel cell, ClearFlame has been quietly gaining ground by slashing emissions though widely available engines and fueling infrastructure.
The Chicago-based startup, founded this past decade at Stanford University, has attracted notable support for its technology, which enables diesel engines to become fuel agnostic though the big push is E98 ethanol.
That nearly pure grade of ethanol is available at fuel distributors around the country and can provide fleets with a quick 45% reduction in carbon dioxide, a 90% drop in NOx and a 99% decline in particulate matter compared to diesel. ClearFlame also reports that E98 can save fleets 40 cents per mile.
Those cost savings also extend to biodiesel and renewable diesel, said Bill Lamberty, chief marketing officer at the American Coalition for Ethanol.
"Ethanol is less expensive than biodiesel and renewable diesel even after RINs, and the $1 per gallon tax credit for those fuels is taken into consideration," Lamberty said.
While renewable diesel, renewable natural gas and other alt fuels have continued to carve out a greater share of credits under California's Low Carbon Fuel Standard (LCFS) program, ClearFlame co-founder and CEO BJ Johnson pointed out that ethanol remains a dominant player in that space. 
"While policies like LCFS are incentivizing clean fuels like renewable diesel which is a positive development, ethanol remains not only the largest credit generator over this program's history but the largest reducer of transportation carbon nationwide," Johnson said. "ClearFlame opted to work with E98 for our initial product because of its nationwide availability and pricing advantage. Ethanol is the only renewable fuel with significant scale, giving our customers refueling options, a lower carbon fuel and the lowest total cost of ownership."
Impressive emissions, an abundant and low-cost fuel supply and a relatively low-cost engine conversion continue to attract the attention of notable investors and major fleets.
"We're working with five of the top 10 fleets in America," said ClearFlame Chief Operating Officer Kirk Roller.
Trucks powered by ClearFlame's technology will be rolling out next month in Texas for further testing.
"We'll be running with some of the largest carriers on their daytime loads and doing a thousand miles a day in many of those cases," Roller said.
And unlike zero-emission trucks, these trucks are capable of hauling 80,000 pound loads and covering the same distance as diesel.
"We don't have any issues there," Roller said of ClearFlame's ability to step up to diesel's performance. "It's just now about making sure that we can prove the technology has the million-mile durability that people expect from a diesel engine."
ClearFlame investors and supporters include the Bill Gates' Breakthrough Energy Ventures fund and Cummins' former chief technical officer John Wall who serves as a ClearFlame board member. Roller added that "two of the three largest mining companies in the world became investors in this last round that we just had. We've got great investors."
They also have the fuel, which has been an ongoing challenge for both hydrogen fuel cell and heavy-duty Class 8 electric trucks.
ClearFlame co-founder and chief technology officer Julie Blumreiter said with ethanol production at roughly 16 billion gallons a year, availability is not an issue.
"If people are saying, 'I want something besides diesel,' we are like one step away and not 10 steps away in terms of what they can access and what they can get going sooner," Blumreiter said.
"We're all about making the delta as small as possible between what you're doing today and running clean and meeting sustainability goals," Blumreiter continued. "It seems like a luxury to go green right now, and it shouldn't have to be, and that's why we've worked so hard to pick the fuel that's going to save folks money as our first fuel to market."
E98 availability and performance
ClearFlame keeps its current test mules fueled up by having tanker trucks deliver E98 to fill up their 10,000-gallon tank.
Roller said E98 is available at every major fuel terminal across the country.
"E98 is sitting there. They're blending it. We're starting to unlock some of those. We'll have some announcements soon," he said. "And then certainly it's going to end up in retail as well. Given the adoption rate we have and the fleets that are trying it, the path has to end up in a retail. And many of those have E98 already. They're using blender pumps to either make E10 or E15."
To match the range of diesel, Blumreiter said E98 fuel tanks need to be increased about 50% in size because diesel has about 1.5 times the energy density.
"It's a few hundred pounds of weight penalty, which is quite small compared to other alternative powertrains and fuel storage," Blumreiter said.
A ClearFlame truck displayed earlier this month at ACT Expo had a Cummins X15 that the company had converted to run on E98. Power is on par with diesel, Blumreiter said.
"You're going to have the same torque curve, including at the low engine speeds, and that's because we're getting that fuel behavior," she said. "We're getting the same heat release. Everything about the way the fuel goes in, including the timing and the burn duration, the compression ratio, all of that, is preserved and lets us keep so many of the things that make this a very efficient, rugged machine."
Renewable Fuels Association President and CEO Geoff Cooper said the low price and performance of ethanol makes it a good fit for Class 8 fleets.
"Ethanol-based fuels have shown promise in heavy-duty applications like the trucking industry, and the lower price point cannot be ignored," Cooper said. "Also, because today's ethanol has much lower greenhouse gas emissions than diesel, the fuel has a major role to play in decarbonizing the sector. Today's corn ethanol already reduced GHG emissions by 50% compared to petroleum diesel, and RFA's member companies have pledged to achieve a net-zero carbon footprint for ethanol by 2050 or sooner."
Johnson said ethanol's hygroscopic nature has not been an issue in their test trucks.
"It's not the presence of water in fuel that is inherently problematic with engines, instead it's the separation process that occurs between water and many fuels," he said. "However, unlike diesel or gasoline, ethanol readily blends with water and does not 'phase separate' the way traditional hydrocarbon fuels do. This means water content is not a challenge for ClearFlame's design, and fuel/water separators can actually be removed from the engines. Further, the fuel-adaptable nature of ClearFlame's technology also means that it can operate on hydrous ethanol (such as the ethanol available at the pump in Brazil) and ClearFlame has operated our engine on ethanol with up to 10% water content."
In addition to E98, Johnson said ClearFlame's technology enables a diesel engine to also run on "fuel blends like E85, and renewable hydrogen carriers like methanol and ammonia. It even has the potential to operate on lower-level ethanol blends (including E10 or E15), although most customers prefer the less-expensive, cleaner burning fuels that also eliminate soot."