China Cracks the Door Open for US DDGS Exports
Source: By Mary Kennedy, DTN/Progressiver Farmer • Posted: Tuesday, November 14, 2017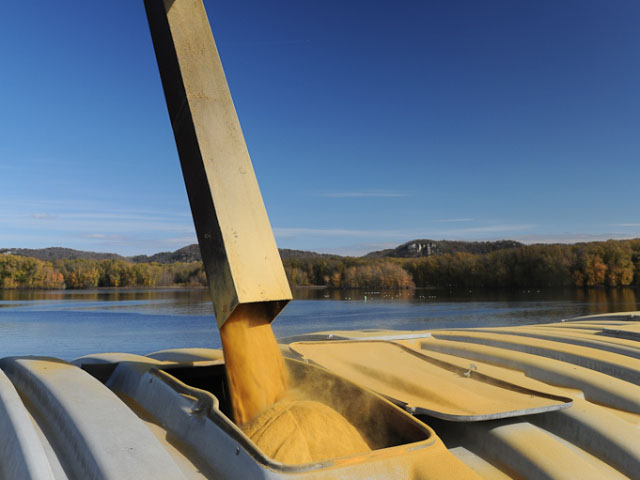 China's Ministry of Foreign Affairs announced on its website that it would again allow U.S. distillers dried grains with solubles (DDGS) to be imported without charging an 11% value-added tax (VAT), the U.S. Grains Council (USGC) reported Nov. 9. The announcement was made in a report of key areas of consensus between the United States and China during President Donald Trump's official visit that week.
I spoke to USGC President and CEO Tom Sleight about this latest news, which had been rumored since June. He said China's statement to remove its VAT on imports of U.S. DDGS "opens the door a little" for U.S. imports. "We are pleased to see this move, which we've been working toward for months," said Sleight.
However, while the VAT has been removed, the anti-dumping and countervailing duties remain, noted Sleight. China's Ministry of Commerce began anti-dumping and countervailing duty investigations related to U.S. DDGS exports to its country in January 2016. Those cases resulted in a final ruling against the U.S. on Jan. 10, 2017, with China setting anti-dumping duties at a range from 42.2% to 53.7%, while anti-subsidy tariffs were set between 11.2% and 12%.
Along with the Jan. 10 duties applied to U.S. DDGS, Sleight said that also meant an end to the "ongoing exemption from paying the VAT. The combination of the duties and the VAT made U.S. DDGS exports to China even less competitive, affecting market prices and export flows globally."
Those "penalties," applied to both U.S. distillers dried grains with or without solubles, caused U.S. exports to China to fall from 5.4 million metric tons in 2015 to 3.3 mmt in 2016 and just 739,000 tons so far in 2017, according to USGC.
The council's staff members in China and the United States have been working closely with the U.S government at the highest levels for nearly a year to emphasize the importance of this $1.5 billion market to the U.S. grains and ethanol industries.
DDGS PRICES GAIN ON CHINA NEWS, U.S. RIVER ISSUESInternationally, the Asian DDG market continues to firm with noted buying support. Prices to China and Vietnam are up $2 to $3 per metric ton while other destinations saw lower bids. On average, 40-foot containers to Southeast Asia were steady this week at $202 mt. Early week buying was attributed to President Trump's visit to Asia that was expected to improve trade relations, while late-week price increases were due to announced tax/tariff changes in the region, according to USGC weekly price update.In DTN's weekly DDG price update on Nov. 10, prices rose $4 mt in the domestic market on average, and some merchandisers were in agreement that some of the support for prices came from the China news. Here is a link to the update posted Friday: https://goo.gl/…

CIF (cost, insurance and freight) NOLA (New, Orleans, Lousiana) barge prices rose $6.50 mt the past week and FOB (free on board) NOLA prices were up $7 mt due in part to issues on parts of the river system causing freight availability to be tight in spots. Stoppages and slowdowns continue on the Ohio River due to higher water and ongoing issues at Lock 52.

Ceres Barge Line noted that Ohio River shippers were in the market, buying "on-station freight" for the end of the week, as the lock is still closed, keeping the empties from getting into position. The USACE reported that as of Nov. 10, the navigation pass remained open during daylight hours only for all navigation traffic southbound and all light boat northbound. The USACE expects to reevaluate the restrictions by Nov. 13.

The Illinois River was also "very tight" for the end of week and was seeing a few barges trade on that segment if on station, noted Ceres Barge Line. For the upcoming week, freight on that segment still seems to be all offers.

On top of that, the current estimated date for all barges coming from St. Paul, Minnesota, Upper Mississippi River MM 857 through 640 that need to be loaded and released is Nov. 19. The final date for the last segment of UMR MM 520 through 240 is Dec. 3, according to American Commercial Barge Line.

Once this portion of the UMR closes for the winter, shippers need to find other, likely more expensive methods to transport not just DDGS, but all other commodities from the Upper Midwest to St. Louis down to the Gulf until spring when the river reopens.