California Gears Up for Trump Battle on Car-Emissions Rules
Source: By Mark Chediak, Bloomberg • Posted: Tuesday, February 6, 2018
The state has special authority under the 1970 Clean Air Act to make its own pollution and greenhouse-gas rules. Allies of President Donald Trump have said his administration may decide only the federal government can regulate car emissions and fuel economy, excluding California from such rule-making.
"I think there would be a war with many states lining up with California" if the state's waiver is revoked, Mary Nichols, chairman of the California Air Resources Board, said Friday at Bloomberg New Energy Finance's The Future of Mobility Summit in Palo Alto, California.
The Air Resources Board, which is charged with setting emissions mandates for the country's largest economy, is expected to go head-to-head this year with the White House's conflicting views on automotive regulations. Although Trump has made no substantive proposal to disconnect federal clean-air targets from the state's greenhouse gas and zero-emission vehicle rules, he said during the State of the Union that halting government mandates would "get the Motor City revving its engines" again, the latest signal of a potential showdown.
Not Picking Fights
"We are defending our policies, values and way of life," Nichols said on the sidelines of the event, "but we are not looking to aggressively pick fights with this administration."
California's Clean-Car Resistance to Donald Trump: QuickTake Q&A
The Trump administration will reveal its plans soon. The National Highway Traffic Safety Administration will propose new federal fuel economy standards for cars and light trucks by March 30, while the U.S. Environmental Protection Agency plans to decide by April 1 whether tailpipe emissions standards for model years 2022 through 2025 should be revised.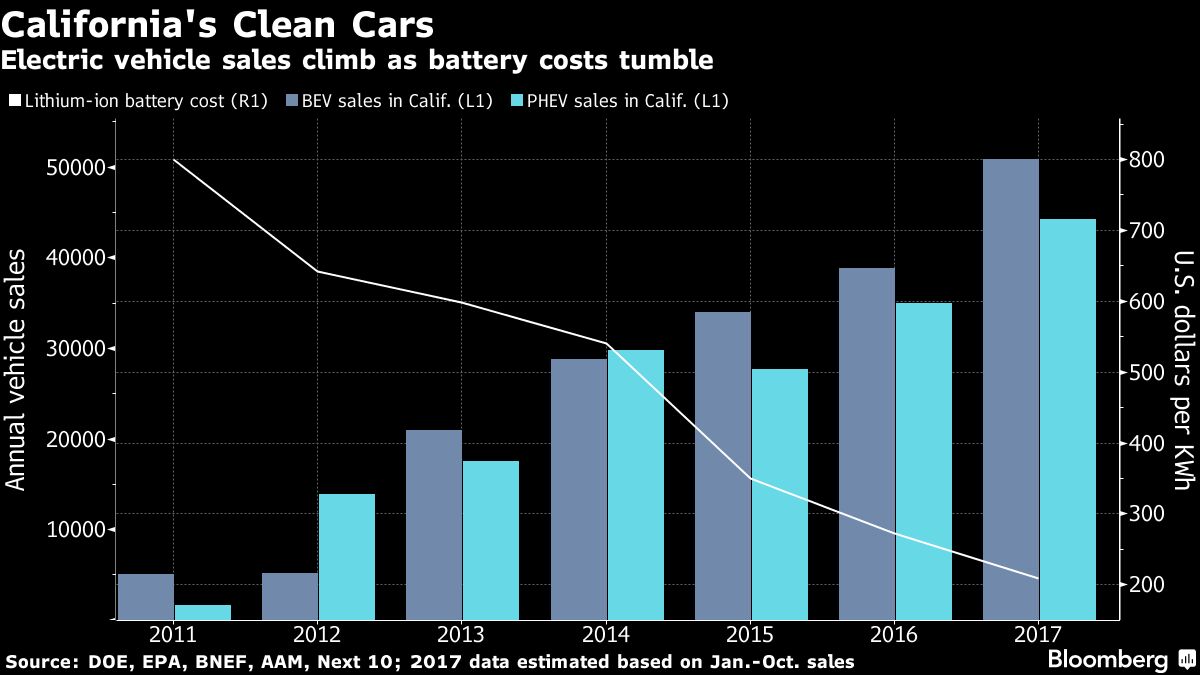 The U.S. rules are today aligned with California's as part of a deal struck by Obama regulators to raise the average fuel economy of new cars and light trucks to more than 50 miles per gallon by 2025. That translates to roughly 36 miles per gallon in real-world driving.
But if Trump softens the federal rules, California will have to decide whether to keep its stricter regulations unchanged. Doing so would force auto manufacturers to deal with a patchwork of regulation. Bill Wehrum, the assistant administrator of the EPA's Office of Air and Radiation, said the Trump administration is working closelywith California to avoid that.
Nichols said she hasn't yet seen anything concrete from the Trump administration about its plans. She added that she's "not yet ready to release our battle plan" for if the federal government does try to revoke California's special authority.
"The EPA would have to take unprecedented legal action to try to revoke that waiver," Nichols said in the on-stage interview at BNEF's summit. "Our best legal judgment is that that can't be done."
Bus Mandate
California hasn't signaled interest in relaxing its strict stance on pollution. In fact, just days before Trump's State of the Union address, Governor Jerry Brown announced plans to have 5 million zero-emission vehicles on California roads by 2030, up from a planned 1.5 million in 2025. The state has a legislative mandate to cut carbon dioxide emissions to 40 percent below 1990 levels by 2030.
Why the Car After Your Next Car Will Be an Electric: QuickTake
The Air Resources Board will also propose in the second quarter that California transit agencies be required to buy zero-emission buses, Nichols said Friday. Mayors of some of the state's largest cities wrote a letter to the board earlier this week encouraging incentives and regulatory measures to spur a shift toward electric buses from ones that spew diesel and natural gas emissions.
"California, independent of the Clean Air Act, has some degree of control over the uses of its streets and highways. There are some positive incentives we can put on the table for cleaning up fleets, ports and heavy duty trucks," Nichols said. "We actually think global warming is an overwhelming environmental problem that we need to be doing something about."