Brazil's Biofuel Push Is Threatened by Too Much Cheap Oil
Source: By Vanessa Dezem, Bloomberg • Posted: Tuesday, October 24, 2017
Brazil is one of the leaders of the Biofuture Platform, a group of 20 nations that also includes the U.S., China and France. The organization was formed at the annual United Nations climate meeting in Morocco last year and plans to present a global strategy to advance the development and use of low-carbon fuels at this year's meeting in Bonn next month.
"Brazil doesn't want to be the world's only producer and supplier," Jose Antonio Marcondes de Carvalho, undersecretary for environment, energy, science and technology at Brazil's Ministry of Foreign Affairs, said in an interview. "We want to lead the international market for the bioeconomy, which will have big diversity of supply and demand."
These goals will be tough to achieve, since global spending on renewable fuels has slumped along with the price of petroleum. Investment worldwide, excluding acquisitions, was $264 million in the first half of the year, down 25 percent from the same period last year, and less than one-third the $882 million spent in 2015, according to Bloomberg New Energy Finance. Oil prices are down by about half since 2014, making more expensive green fuels less competitive.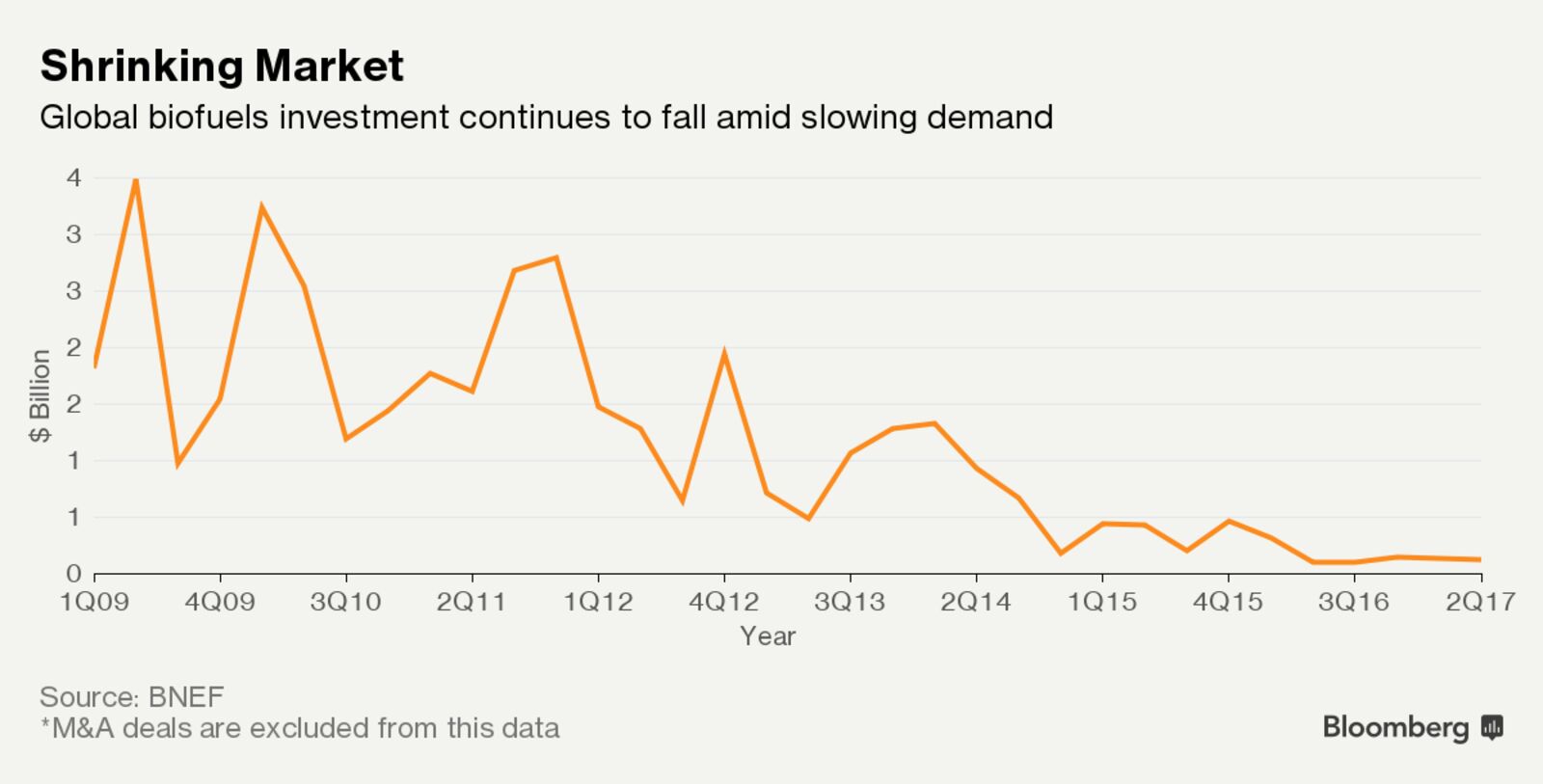 Biofuel consumption worldwide will need to increase 10-fold by 2050 to meet climate targets laid out in the Paris Accord, according to the group. Boosting domestic consumption is also an important part of Brazil's effort to meet its own targets under the landmark 2015 agreement. And as the world's second-biggest producer, Brazil is eager to generate more export revenue from ethanol abroad. The country exported 144 million liters (38 million gallons) in September, down 2 percent from a year earlier.
Transportation accounts for about 23 percent of the world's energy-related greenhouse gases, and shifting to green fuels will go a long way toward reducing emissions. Representatives from the Biofuture nations will arrive in Bonn with pledges and non-binding targets to boost domestic investment, aimed at spurring both supply and demand. They also expect to announce policies they will implement to reach those goals.
Headwinds
They will face strong headwinds, said Julio Maria Borges, director at JOB Economia & Planejamento, an ethanol consulting company. Brazil may want the world to consume more of its biofuels, but there's little sign of increasing demand.
"These initiatives to stimulate the production and global use of ethanol have been ineffective," Borges said. "Ethanol is not competitive in the world. Brazil has been insisting on promoting ethanol globally since the 1980s, but that has never worked."
The global biofuels market suffers from two key problems: weak demand and elusive regulatory support, according to a New Energy Finance report from August. As fossil fuel prices remain low, the unsubsidized cost of producing first and next-generation biofuel will overwhelmingly remain uneconomic.
"We need to reinforce internationally the value of low-carbon biofuels," Carvalho said. "Investments are not occurring in the required speed, and they simply are not following the world's targets for climate change."
Another threat to biofuel demand comes from electric vehicles. Sales climbed 41 percent in the first half of 2017 compared to the same period of last year, mainly in China, according to New Energy Finance.
They're still a small part of the global auto fleet, said Elizabeth Farina, head of Brazil's ethanol industry group Unica. In the meantime, "biofuels are ready to go and they have much to advance in terms of cost and energy and environmental efficiency."
There may still be room for sugar-cane ethanol in a future with electric cars, since the fuel may be a potential source of power for electric cars' batteries, according to Plinio Nastari, head of consulting company Datagro.
Shifting to electric cars may not have an immediate impact on total emissions in countries where the local power grid still depends on fossil fuels, Carvalho said.
Immediate Reduction
"Biofuels lead to an immediate emissions reduction," he said. "Electric cars must thrive. But their real impact in the global emissions depends also on how the electricity is generated."
Brazil is pushing ethanol now after the industry has languished for the past decade, following the discovery of the massive pre-salt layer of oil reserves. As the country directed investments to develop its offshore fields, ethanol prices became less competitive as gasoline prices fell. About 50 ethanol and sugar mills have closed and more than 70 filed for bankruptcy in Brazil since 2011, according to Unica.
Brazil's domestic market is also entangled in a trade dispute with the U.S., after imports from the world's top producer surged and prices plunged. Brazil imposed a cap on shipments from the biggest suppliers, creating tension between the industry and international competitors.
That will be a temporary measure in response to a very specific surge on imports from the U.S., Carvalho said. The policy will be reevaluated once the market stabilizes and should not be read as a sign that Brazil opposes an open market for biofuels.
"Free international trade is very important for the future of the bioeconomy."