Assistant to President Says Search Continues for a Win-Win Proposal
Source: By Chris Clayton, DTN/Progessive Farmer • Posted: Thursday, March 22, 2018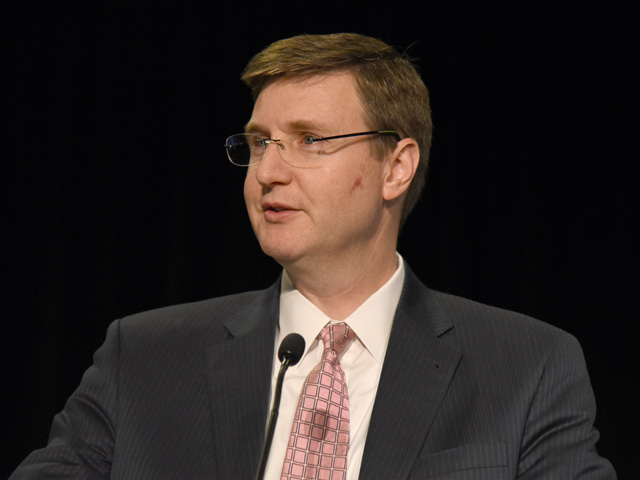 Ray Starling, a special assistant to President Trump, spoke about the Renewable Fuels Standard this week at an Ag & Food Policy Summit. (DTN photo by Chris Clayton)
WASHINGTON, D.C., (DTN) — A special assistant to President Donald Trump on agriculture said Wednesday, "the search for a win-win continues" in the debate over how to relieve oil refiners of their obligations under the Renewable Fuels Standard.
Ray Starling, a special assistant to the president, spoke at an Ag & Food Policy Summit sponsored by Agri-Pulse. Starling spoke on a range of topics, including touching on the latest with the RFS, calling it, "a contentious topic."
"There is a lot at stake," he said. "It is now so engrained in the economics of our ag world."
Yet Starling noted, "Not everyone is a fan of the RFS and the way it works at the moment," and he added that talks continue at the White House, and between leaders at USDA and EPA. "The search for win-win continues," Starling said.
Starling added, "What can refiners put on the table to provide agriculture some comfort?"
Yet, some leaders in the ethanol industry argue that farmers and biofuel producers have already given up a lot of demand because of changes already made by EPA. Bob Dinneen, president and CEO of the Renewable Fuels Association, told DTN in an interview Tuesday that EPA policy decisions are already eroding the Renewable Fuels Standard. Dinneen criticized the idea that the biofuels industry should have to give up any more to refiners.
"I keep asking why we have to give them anything," Dinneen said. He added EPA Administrator "Scott Pruitt is giving them everything they want lately."
Perdue suggested on Tuesday that Congress may have to resolve the issue. Dinneen said that would stretch out the debate and likely avoid a demand collapse from hitting farmers harder. "I don't think Congress is going to be able to resolve this issue, which is good," he said.
Dinneen noted that sales of hundreds of millions of gallons of biofuels have been lost because EPA is granting waivers to small refineries that request a waiver from RFS obligations. These waivers also are being done with no transparency by EPA. The agency has declined requests from RFA to provide details on the waivers.
Based on conversations in the marketplace, Dinneen said, "We understand there are upwards of 30 waiver requests that are being granted. That again translates into hundreds of millions of gallons. You really don't know because you don't find out about it until a year or two later when they have to do a report that aggregates that kind of stuff. There's no transparency whatsoever."
RFA wrote a letter to EPA in January asking for information on the RFS waiver, but the agency has not released the information. https://goo.gl/…
DTN has requested information on RFS waivers from the agency as well, but EPA has not responded to a Freedom of Information request filed by DTN in late January.
The lack of a White House deal on the RFS reflect that Agriculture Secretary Sonny Perdue is becoming more uncomfortable with the idea of a cap on Renewable Identification Numbers, Dinneen suggested,
"I think what that reflects is Perdue is becoming more and more uncomfortable with a RINs cap being part of this, which he should. I'm pleased to hear that."
Dinneen criticized EPA's decision to cut the RFS liability for Philadelphia Energy Solutions by 329 million gallons, basically cutting the bankrupt refiner's obligations in half. PES had blamed its bankruptcy on hundreds of millions owed in Renewable Identification Numbers to meet the RFS. Yet, just days after EPA settled with the refiner, the state of Pennsylvania filed court document declaring the refiner owes $3.8 billion in back taxes just to the state.
"The farm economy is on the brink and the single-most value-added market for farmers has been this program," Dinneen said. "So now they want to do damage to that program, and thus the farm economy — to save a failed refinery in Philadelphia? The wrong folks are being protected in this."
EPA also so far has not taken action responding to a federal court order to readjust the blend volume requirements for 2016 RFS blend obligations. EPA is required under the court order to reallocate 500 million gallons of biofuel use, but has yet to make any attempt to do so. That was from a court case the Renewable Fuels Association brought against EPA and won.
"The court told EPA they have to address this and EPA has ignored it so far," Dinneen said. "So in my mind, EPA has had a fire sale on RFS demand over the past couple of months and it's time to hit the reset button. Stop talking about giving refineries more and start talking about leveling the playing field and doing something for demand."
The American Coalition for Ethanol also is holding its fly-in Wednesday and Thursday. ACE is bringing 70 members to Washington and "doubling down on the importance of the Renewable Fuel Standard (RFS) on rural America in its meetings with members of Congress, along with paid advertising, and social media messaging, due to recent attempts to undermine the RFS coupled with the down rural economy," ACE said in a news release.