As Democrats Push Price-Gouging Bill, Voters Show Bipartisan Support for Legislation That Would Bar Companies From Charging Excessively High Energy Prices
Source: BY JULIA MARTINEZ, Morning Consult • Posted: Wednesday, May 25, 2022
About 3 in 4 voters also support gas tax holidays as average prices hit record highs
With gasoline prices continuing to set records nationwide, a new Morning Consult/Politico survey finds broad bipartisan support among voters for a federal government ban on energy price gouging as Democrats push legislation to do just that. Bipartisan support for gas tax holidays also remains high.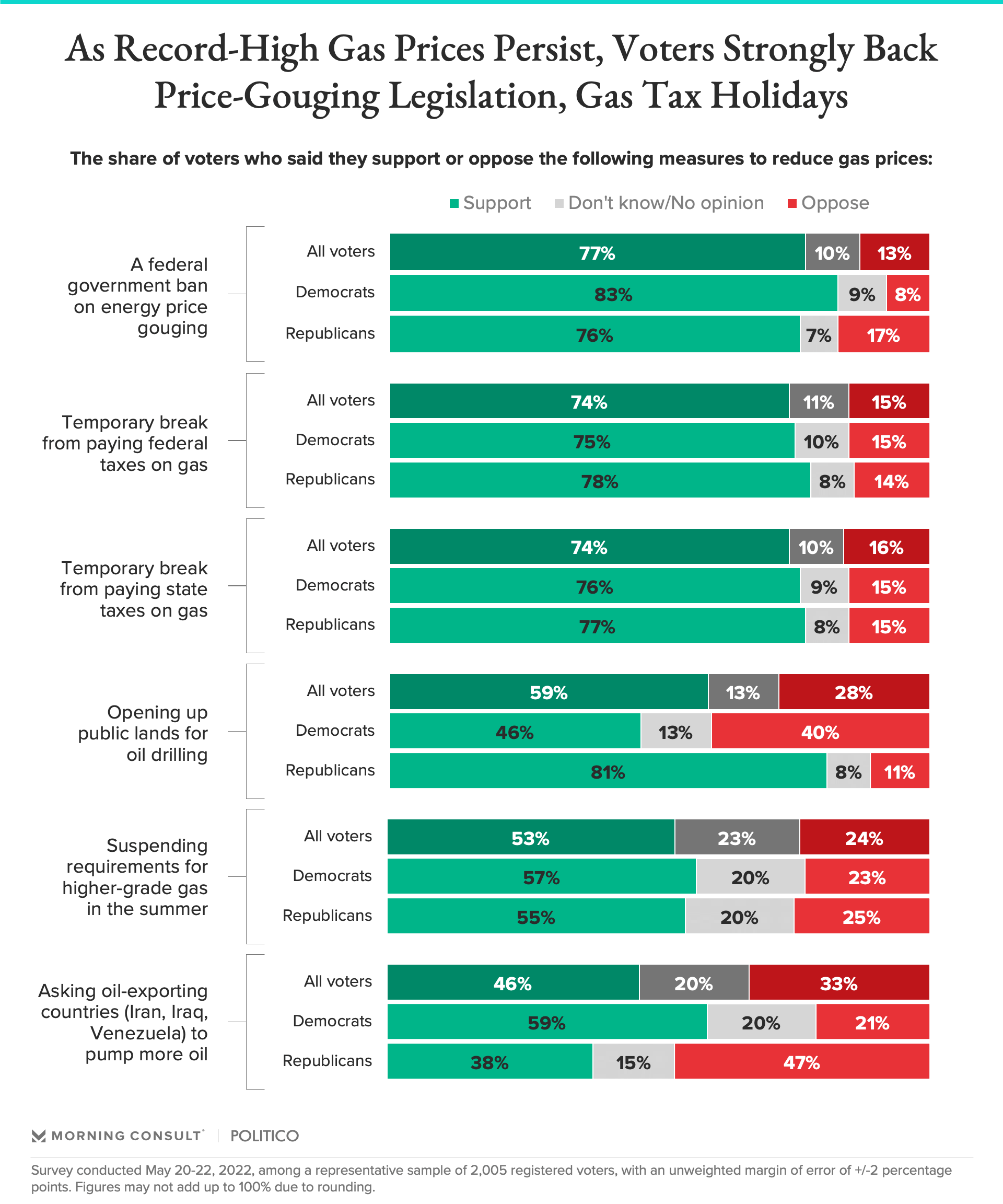 What the numbers say
Energy price-gouging legislation is supported by 77% of registered voters, including 83% of Democrats and 76% of Republicans. Gas tax holidays at both the federal and state levels were also popular, with 74% of voters backing those proposals.
Some price reduction proposals were more divisive than others: 81% of Republicans  supported the opening up of public lands for oil drilling, compared with 46% of Democrats. Meanwhile, Democrats were more supportive than Republicans about asking oil-exporting countries such as Iran, Iraq and Venezuela to pump more oil, at 59% and 38%, respectively. 
About half of voters overall, Democrats and Republicans support the suspension of requirements for higher-grade gas in the summer.
Voter support for many of these policies remains relatively unchanged since a Morning Consult/Politico survey conducted in mid-March, though backing for the suspended higher-grade gas requirements in the summer months did increase 7 percentage points to 53% in the latest survey.
Related: Gas Price Pain Is Curbing Mobility, and Consumers Are Getting Creative to Stay on the Move
Background
Both lawmakers and the Biden administration are considering new measures to reduce gasoline prices as national averages continue setting record highs. Democrats are attempting to rally Republican support for price-gouging legislation in the Senate that would bar "unconscionably excessive" fuel prices and ban price increases during national energy emergencies declared by the president. 
The Consumer Fuel Price Gouging Prevention Act passed the Democratic-controlled House last week with a narrow 217-207 vote, while Congress remains unable to get federal gas tax holiday legislation past the finish line and onto President Joe Biden's desk. States including Florida, Maryland, Georgia, New York and Connecticut adopted their own short-term holidays. 
Meanwhile, the White House is reportedly considering a suspension of blending rules that would apply to all grades of gasoline in another effort to lower gas prices. The rules help reduce smog in the hotter months by requiring refiners and blenders to avoid using lower-cost components such as butane. 
While the Biden administration looks to possibly boost domestic production through oil and gas leases, the Treasury Department is expected to renew Chevron Corp.'s license to operate in Venezuela, four people close to the talks told Reuters. The renewal would see the oil major return to some of the terms it had with the country in 2020, which did not limit the company's drilling, processing or shipping from Venezuela, the people said. 
The May 20-22, 2022, survey was conducted among a representative sample of 2,005 registered voters, with an unweighted margin of error of plus or minus 2 percentage points.
Related: Caught Between Their Hearts and Pocketbooks, Europeans Waver on Russian Energy Sanctions