America's New Ambassador To China Is A Boon To The Renewables Sector
Source: By Tristan R. Brown, Seeking Alpha • Posted: Wednesday, December 14, 2016
China's government was quick to praise the pick, having developed a strong relationship with Mr. Branstad thanks to a robust agricultural and renewable energy trade between China and Iowa.
The news provides some optimism for a sector that has become increasingly wary of Mr. Trump's rhetoric about trade with China and willingness to challenge diplomatic protocols.
Among the deluge of analyses that have been written about President-elect Donald Trump's impacts on the markets, one angle that has been largely ignored is what a trade war with China would mean for the U.S. renewable energy sector. For instance, the growth rate of U.S. ethanol consumption has slowed in recent years as domestic drivers have largely been unwilling to utilize ethanol that has been blended with gasoline in excess of 10 vol% (the so-called "E10 blend wall").
Producers have become increasingly reliant on the international markets as a means of achieving continued growth, with countries such as China proving to be eager consumers of both corn ethanol and the pathway's byproducts (especially DDGS and corn oil).
Mr. Trump's threats to impose tariffs on Chinese goods and label the country a "currency manipulator" (it is guilty on the latter count of late, albeit for the opposite reason stated by Mr. Trump) are therefore of concern to ethanol producers in particular since it is unlikely that China would refrain from retaliating against U.S. products.
China has become America's largest source of DDGS exports, setting annual records every year since 2013 and equaling by volume the amount exported to the rest of the world combined. China has also become an important destination for U.S. ethanol, with the total volume in several months since early 2015 reaching roughly 33% of total ethanol exports (see figure).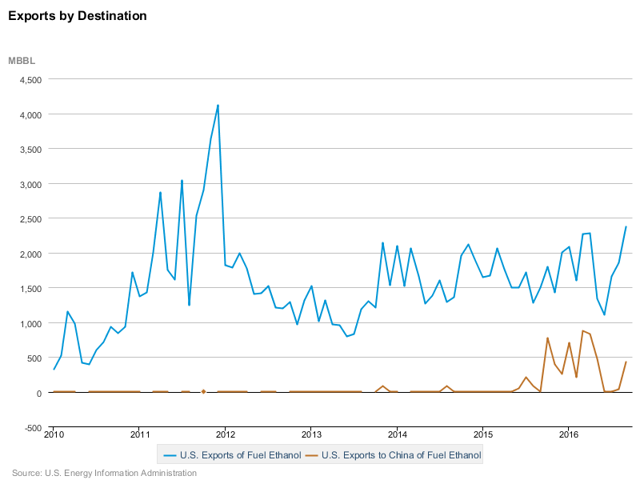 An "old friend" of China
The news, then, that Mr. Trump has selected Iowa governor (and graduate of the same university as this contributor – Go Hawks!) Terry Branstad is excellent news for U.S. biofuel producers. As governor, Mr. Branstad has overseen an unprecedented expansion of renewable energy production in the state.
Iowa has become one of the country's largest such producers despite its small geographic size and population. The state is the country's largest producer of corn ethanol, cellulosic biofuel (both by capacity), and biodiesel (by number of producers), second-largest producer of wind power, and hosts Renewable Energy Group (NASDAQ:REGI), which is one of the world's largest producers of biodiesel and renewable diesel.
Mr. Branstad has developed a strong relationship with China since the U.S. normalized trade relations with that country at the beginning of the century. To an extent such a relationship was inevitable given China's growing demand for the agricultural products that Iowa produces so much of, including corn, soybeans, and pork. More recently concerns over terrible urban air quality has prompted Chinese policymakers to increasingly rely on biofuels such as ethanol and biodiesel to serve as a stopgap while the market waits for battery-electric vehicles powered by renewable electricity to contribute to smog reduction efforts.
(Refined fuels that have been blended with ethanol and biodiesel have lower emissions of the particulate matter that contributes to smog formation than unblended fuels.) This growing demand has been a boon to Iowa's biofuel producers even when the actual biofuels come from other locations by supporting overall prices.
The renewable energy trade between the U.S. and China has very much been bidirectional, however. In 2014, the U.S. Department of Energy calculated that the U.S. was a net importer of wind turbines and wind turbine parts. Furthermore, Asia, primarily in the form of China, was the source of 42% of the value of those imports. The state of Iowa has installed an average of 500 MW of new wind power capacity annually over the last decade, more than any other state except Texas.
Not all of this expansion occurred under Mr. Branstad, who was out of office between 1999 and 2011, and not all of the capacity was imported from China. Mr. Branstad has overseen some of the largest increases in capacity, however, and China has been financing U.S. wind power production even when it does not directly supply the turbines.
This past relationship between Mr. Branstad's state and China is what Mr. Trump intends to utilize. China's state media hailed the announcement by describing Mr. Branstad as "an old friend of the Chinese people," which the New York Times describes as code for an individual that the Chinese government trusts. China's Ministry of Foreign Affairs sounded very pleased about the announcement by the muted standards of China's political public relations, with its spokesman saying that "we would welcome him playing a bigger role in promoting Sino-American relations."
Investment implications
At a minimum, Mr. Branstad as America's envoy to China will support a continuation of the historical business relationship between the two countries despite Mr. Trump's campaign pledges and recent diplomacy. More specifically, however, Mr. Branstad brings an important amount of governing experience regarding U.S.-China trade in agricultural and renewable energy products with him to the new position (assuming his confirmation by the Senate, which is very probable).
In addition to Renewable Energy Group, this experience will benefit major U.S. producers in the two categories and providers of ancillary services such as The Andersons (NASDAQ:ANDE), Archer Daniels Midland (NYSE:ADM), Green Plains, Inc. (NASDAQ:GPRE), Green Plains Partners (NASDAQ:GPP), Pacific Ethanol (NASDAQ:PEIX), REX American Resources (NYSE:REX). Berkshire Hathaway (NYSE:BRK.A) (NYSE:BRK.B) subsidiary MidAmerican Energy, which is about to start building a $3.6 billion wind farm in Iowa that will be one of the world's largest, will also benefit from any diplomacy that allows wind turbine prices in the U.S. to remain low.
Presidential nominations of diplomats are popularly viewed as handouts to major supporters, and it is true that Mr. Branstad supported Mr. Trump's campaign early on in the general election campaign. Mr. Branstad's nomination as America's top diplomat to China brings some much-needed optimism to relations between the two countries, however, and his experience with the renewable energy trade between both provides some relief to a concerned sector.