American Voters Just Sent a Surprising Message About the Trade War
Source: By Andrew Mayeda, Bloomberg • Posted: Friday, November 9, 2018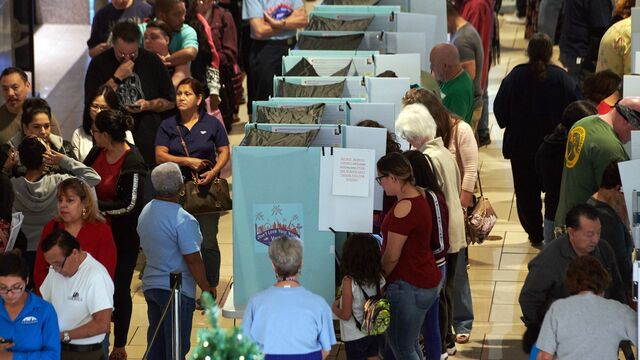 The trade war of 2018 was, in theory, supposed to hurt Republicans in states vulnerable to higher tariffs and Chinese retaliation. The results from Tuesday's midterm elections suggest that didn't really happen.
President Donald Trump's tariffs were a hot topic in farming regions and the Rust Belt — places with a lot to lose in the dispute with China, which countered with duties on iconic American exports from soybeans to lobsters. Yet several candidates who opposed Trump's tariffs were defeated, while some who backed the duties won their races.
The outcome gives the U.S. president little incentive to soften his hawkish trade strategy. A potential turning point is coming at the end of this month, when the president is expected to meetChinese President Xi Jinping at the Group of 20 summit in Argentina.
Here's how Tuesday's results played out in races where trade was a big issue:
Key Trade Races
Democrat Claire McCaskill lost her Senate seat in Missouri to Republican Josh Hawley. McCaskill warned that Trump's trade war is hurting farmers, ranchers and manufacturers in the state. The race was a tossup heading into the election, according to political site RealClearPolitics.
Republican Congressman Mike Bost retained his seat in Illinois' 12th district, beating Democrat Brendan Kelly. Bost, whose district includes the Granite City Works mill operated by U.S. Steel, supported Trump's tariffs on steel and aluminum. Bost was leading before the vote, polls suggested.
Democrat Heidi Heitkamp lost her Senate seat in North Dakota, falling to Republican Kevin Cramer. Heitkamp was trailing by nine points in polls before the vote. During the campaign, she attacked Trump's tariffs and sought to capitalize on angst among soybean farmers hit by Chinese retaliation.
Republican Martha McSally was narrowly leading in Arizona, though the race still remained too close to call by Wednesday. Her opponent Kyrsten Sinema warned that Trump's tariffs were hurting Arizona businesses and farmers.
Democrat Sherrod Brown retained his Senate seat in Ohio, beating Republican Jim Renacci. Brown lined up behind the president on trade, supporting the steel tariffs.
In Indiana, Democrat Joe Donnelly lost his Senate seat. Donnelly and his opponent Mike Braun cast themselves as defenders of American manufacturers. Trade was mentioned in TV ads in the race more than any other Senate contest, according to Kantar Media's CMAG, which tracks political advertising.
In a victory for establishment pro-trade conservatives, Republican Bryan Steil defeated Democrat Randy "Ironstache" Bryce in Wisconsin's first House district, the seat being vacated by outgoing House Speaker Paul Ryan.
The Republicans did suffer some losses in farm states. Democrats flipped two seats in Iowa, where corn and soybean farmers have complained about tariffs. Democrat Abby Finkenauer won in the state's first district, while Cindy Axne prevailed in the third district.