Ag Secretary Sees RFS Volumes, RIN Prices as Separate Discussions
Source: By Chris Clayton, DTN/Progressive Farmer • Posted: Thursday, March 1, 2018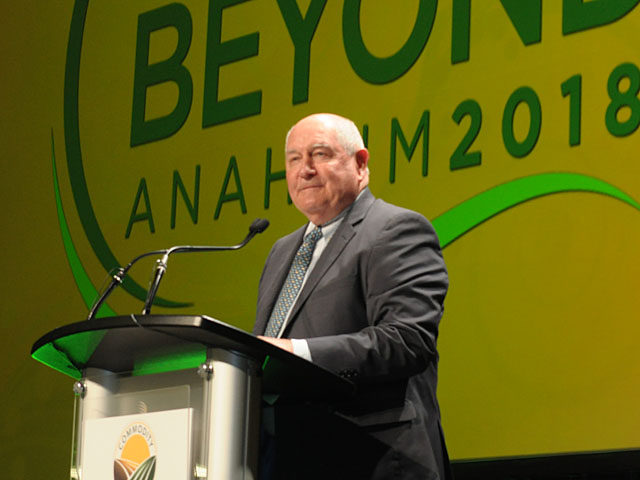 U.S. Agriculture Secretary Sonny Perdue speaks to farmers at Commodity Classic in Anaheim, California, on Wednesday. (DTN photo by Chris Clayton)
ANAHEIM, Calif. (DTN) — Agriculture Secretary Sonny Perdue defended his support for the Renewable Fuel Standard on Wednesday as he spoke to farmers at Commodity Classic, making it clear that President Donald Trump "unequivocally" supports ethanol, corn farmers and the RFS.
Biofuel industry leaders and corn farmers are concerned that Perdue doesn't understand the value of the Renewable Identification Number credits to the biofuels industry. Leading up to Perdue's speech, corn farmers were hearing reports about the White House meeting on Tuesday with Republican Sens. Charles Grassley and Joni Ernst of Iowa in which the issue of RINs was reportedly discussed.
Speaking to thousands of corn, soybean, wheat and sorghum farmers, Perdue said he was beginning to understand what President Trump means when he talks about "fake news," as he has drawn fire since Tuesday over talk coming out of the White House about what exactly could be a proposal to change RIN mandates.
Perdue reiterated his support for the RFS is "unequivocal" as well, and he sought to quell any questions about whether he would support a policy that would risk hurting corn demand.
"Hear me clearly, all of you," Perdue said. "I will not, I have not and will not support any policies in this country that diminish the demand, undermine the RFS and are harmful to our agricultural producers. I will not."
Those comments led to long, roaring applause before he continued his speech.
Corn farmers and ethanol industry leaders, though, have serious concerns following Tuesday's talks in Washington that the White House is supporting the idea of the Environmental Protection Agency agreeing to issue RIN waiver credits to refineries. While policymakers have referred to it as a price cap, the concept would allow EPA to issue waiver credits at substantially lower values than RINs are trading on the market. By buying those cheap credits, refiners could offset the actual requirements and costs of blending ethanol.
Talking to reporters after his speech, Perdue reiterated that he would not support anything, including export RIN credits, that would diminish the annual renewable volume obligations (RVO) required of refiners.
"My bottom line is I'm not going to support anything, whether it's export RINs or whatever that diminish the RVO standard and where we are now," Perdue said.