ADM Takeover of Bunge Subject to Antitrust Scrutiny
Source: By Todd Neeley, DTN/Progressive Farmer • Posted: Thursday, February 22, 2018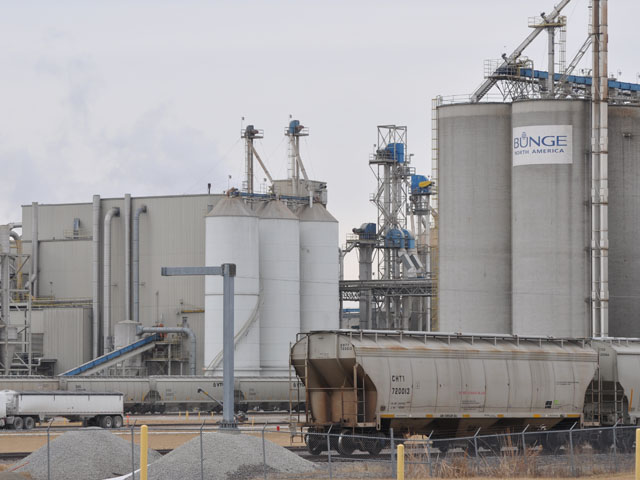 Archer Daniels Midland reportedly is weighing a takeover of Bunge Ltd. (DTN photo by Chris Clayton)
OMAHA (DTN) — The possible merger of two of the world's largest grain and oilseed processing companies likely wouldn't move prices for farmers. However, it likely would have a bigger impact on farmers outside the heart of the Corn Belt.
That's the view of at least one land-grant university economist who has been looking at the possibilities.
Speculation has been swirling about reports that Archer Daniels Midland may be in talks to take over Bunge Ltd. Leaders for the two companies have been tight-lipped. So far, there's also been little analysis about a corporate marriage of two major agricultural commodity buyers that combined for about $106 billion in sales last year. ADM reported $60.8 billion in annual net sales in 2017, while Bunge made about $45.8 billion in net sales in 2017.
Chad Hart, associate professor of economics, crop markets specialist and Extension economist at Iowa State University, said it's difficult to say how such a merger among global grain and oilseed giants would affect farmers.
"With tighter margins, companies are looking at how can we wring more out of the system," Hart said. "When I'm looking here at this proposal, to me when I'm looking at the two, what I see is ADM is the stronger company in North America, while Bunge is a little stronger in the South American market. It's creating that marketing arm that reaches all across the Americas and helps streamline how they move product from the farm to the end user."
ADM CEO Juan Luciano declined to talk about press reports to that effect during a quarterly earnings call earlier this month. Luciano did say ADM is looking to make strategic acquisitions and mergers to fill holes in the company's business.
Bunge CEO Soren Schroder also declined last week to address market rumors. During Bunge's call with analysts, he focused heavily on tightening margins and cost savings. He also wasn't certain that consolidation in the grain and oilseed industries would automatically lead to higher margins when it comes to a pair of global companies getting together.
"Maybe in some areas, but broadly speaking, I'm not so sure," Schroder said in response to an analyst's question. "It's a fairly fragmented business with barriers to entry that aren't all that significant. So, it's more about how you run your assets that determines your profitability. So, there are certainly pockets where that is the case, but on a global scale, I'd say probably not."
HOW WILL IT AFFECT FARMERS
If ADM makes the move, Hart said farmers likely are going to see fewer marketing outlets as the companies would combine operations.
However, unlike mergers in the seed business, there still is a fair amount of competition in crop marketing. "In the heart of the Corn Belt, there's still plenty of marketing outlets out there that are independent of ADM and Bunge," he said.
"When I'm looking at the state of Iowa, you're talking about 350 to 400 marketing points for corn and soybeans. ADM and Bunge have a lot, but there still would be well over 200 still outside the big four marketing chain. We still have a lot of competition in the marketing of grain."
Hart said producers in regions outside of the Corn Belt, where more marketing outlets are owned by fewer companies, could see a less-competitive marketing situation. "That's when the market power shows up more," he said. "I'd be more concerned about that looking at the Port of New Orleans and Gulf area where the big four are larger."
For the broader ag economy, Hart said such a combined company could result in improved efficiency in moving commodities from the farm to end users.
"As far as individual farmers seeing benefits, it's not going to move prices for corn and soybeans enough for farmers to where they would see in their pocketbooks," Hart said.
There should be some concern, he said, about whether such a merger could create opportunities for price manipulation.
"I don't think that's the case," Hart said. "I'm less worried about that here in the marketing segment than I was in seed mergers. Seed mergers, the big three dominate. Here you're talking about two of the big four, but they don't represent 80% of the marketing side of things."
On the local level, he said, farmers could benefit from marketing ideas shared between ADM and Bunge. That could mean new contract price opportunities, Hart said, including average-price contracting.
ADM, BUNGE BY THE NUMBERS
Based on DTN's research, ADM would add to its business in a number of segments if a deal can be struck.
ADM currently operates about 500 grain elevators, ports and shipping terminals in 170 countries, including 270 ingredient manufacturing plants, 44 innovation centers, as well as an extensive crop transportation network.
In North America alone, the company operates more than 300 grain elevators, ports and shipping terminals. ADM runs about 70 oilseed operations in the United States, including 25 crushing plants and 27 oilseed refineries. ADM boasts 17 wet and dry mill corn processing plants in the U.S., producing both ethanol and distillers grains.
In addition, Bunge operates 21 ports in the U.S., Canada, South America, Australia, Vietnam, Turkey and Ukraine. ADM owns or leases grain elevators in seven Brazilian states, including 20 in Mato Grosso. ADM owns five soybean processing plants and a biodiesel plant in Brazil, as well as three fertilizer blending plants.
Although ADM already has a significant business in South America, primarily in Brazil, acquiring Bunge would come with key additions in South America.
EDIBLE OILS
Perhaps one of Bunge's strong suits in what it could add to ADM comes in its edible oils packaging and refining capabilities.
In its 2017 fourth quarter financials, Bunge reports near-record results in its edible oils business. In addition, the company is undertaking a key acquisition in the space.
Bunge is expected to close its acquisition of oils and fats producer Loders Croklaan in the first quarter of this year, Schroder said in the company's latest financial report.
In its fourth-quarter financials, however, ADM's adjusted operating profit in oilseeds processing decreased by 15.5% from year to year.
Bunge already operates 69 edible oil refineries and packaging plants in North America, South America, Europe, Austria, Hungary, Poland, Romania, Turkey, Ukraine, the Russian Federation, India, Vietnam and China.
Bunge also owns 17 mills in the U.S., China and Mexico, and 52 oilseed facilities in the U.S., Canada, South America, Europe, Austria, Poland, Hungary, Romania, Turkey, Ukraine, the Russian Federation, China and Vietnam.
In Brazil, ADM is Brazil's overall fifth-largest exporter. The company is Brazil's largest soybean meal exporter, and second largest exporter of soybeans. ADM is the country's largest domestic meal supplier, second largest soybean crusher and second largest bottled oil producer.
Bunge operates eight sugarcane facilities in Brazil. However, the company said it is in the process of exiting the sugarcane milling and trade business.
There are potential benefits to farmers if ADM expands its grain-handling capabilities. If ADM gained Bunge's 74 grain facilities in North America, its storage capacity in the U.S., for example, would expand to 14 million tons — making ADM the largest grain handler in the U.S.
If a company has more storage to access, it can use it to move grain volumes to areas of the business where more supplies are needed. This can, in some respects, benefit markets in general.
Such a transaction will be subject to federal antitrust scrutiny.
CONCENTRATION CONCERNS
Neil Harl, Charles F. Curtiss distinguished professor in agriculture, emeritus professor of economics at Iowa State University, has been monitoring and writing about consolidation in agriculture for much of his career.
He said he continues to hope the U.S. government will pay close attention to possible implications of ag concentration.
In particular, Harl said he has been concerned about concentration in the animal slaughter business, seed production, grain handling, farm machinery and equipment, and control of fertilizer supplies worldwide.
"My position has been that the federal agencies monitoring concentration have been less than aggressive, particularly since the 1980s with the change of leadership in Washington, especially with respect to mergers," he said.
During the early years of former President Barack Obama's administration, Harl said, an attempt was made to "re-energize antitrust." However, he said that ran into resistance.
"It is never too late to right a wrong in government, business or academe," Harl said.
"I am adamantly opposed to any merger or acquisition that moves the level of concentration above 50% and any proposed merger or acquisition should be scrutinized well below that level. The evils of concentration are well known. Healthy and open competition in the long-term continues to be the most important feature of any government and of any economic system."