ADM plans to make jet fuel at Nebraska ethanol plant
Source: By MATT OLBERDING, Lincoln Journal Star • Posted: Wednesday, October 27, 2021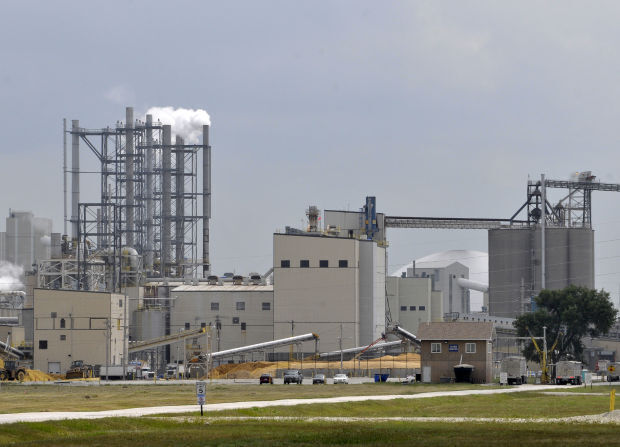 Archer Daniels Midland's Columbus dry mill is part of a plan the company announced Monday to turn ethanol into sustainable jet fuel.
ADM said it has signed a memorandum of understanding with a company called Gevo Inc. to transform ethanol into sustainable jet fuel and other renewable hydrocarbon fuels.
According to terms of the deal, Colorado-based Gevo would use its processing technology to turn about 900 million gallons of ethanol produced at ADM's dry mills in Columbus and Cedar Rapids, Iowa, as well as its Decatur, Illinois, complex into about 500 million gallons of sustainable, low-carbon fuels for aviation and other industries.
The Columbus and Cedar Rapids facilities both have production capacities of about 300 million gallons a year, so it appears the plan is to dedicate all their capacity to the sustainable fuels effort.
Gevo CEO Patrick Gruber said in a news release that it has potential demand from customers for more than 1 billion gallons of sustainable fuels.
"By working with ADM, who already has committed to reducing their carbon footprint, we have the opportunity to accelerate scale," Gruber said in the news release. "The technology to convert low carbon ethanol and isobutanol into (sustainable aviation fuel) by Gevo is well developed and ready for world scale-commercialization."
ADM said in the release that demand for sustainable aviation fuel is likely to increase over the coming years because U.S. airlines, airports, shippers and the U.S. government are working together to advance its use.
The U.S. and European Union also have set goals that if fulfilled would support almost 4 billion gallons of annual production of the fuels in 2030, and more than 45 billion by 2050.
The two companies said they will work together to determine full commercialization plans and enter into definitive agreements and hope to start production of the sustainable fuels sometime in 2025 or 2026.