A Battle Of The Billionaires Over The Biofuels Mandate
Source: By Tristan R. Brown, Seeking Alpha • Posted: Thursday, March 2, 2017
The reduced price of the credits is a boon for merchant refiners and comes amid a renewed push to change the mandate's blending point of obligation.
February has seen strong pushback from biofuel producers, integrated oil & gas firms, fuel retailers, and now railroad firms and even Senate Democrats.
A leak from the Trump administration suggests that an executive order implementing the change is in the works despite the rising controversy.
President Donald Trump is increasingly leaving his imprint on the shape of U.S. environmental policy. In the wake of former Oklahoma attorney general Scott Pruitt's confirmation as U.S. Environmental Protection Agency (EPA) administrator comes the imminent weakening of existing federal regulations on methane leakage, power plant emissions, and water pollution. Mr. Pruitt's course of action on the revised Renewable Fuel Standard (RFS2) biofuel blending mandate, which the EPA oversees, remains murky, however. An all-out lobbying effort involving the personal companies of two of the most recognizable names in the investment world, Warren Buffett and Carl Icahn, has erupted in Washington D.C. in an effort to influence the EPA's future course of action.
At the center of the lobbying battle is the question of which companies are responsible for implementing the mandate's blending requirements. The pre-recession legislation that created the mandate places the bulk of the burden on petroleum refiners (NYSEARCA:CRAK). A lack of sufficient blending infrastructure at the point of refining (America's major refined products pipelines are ethanol-free, causing the ethanol that comprises the bulk of biofuels blending under the RFS2 to instead be blended at wholesale terminals and retail stations) has caused smaller merchant refiners to purchase blending credits from non-obligated blenders rather than conduct their own blending operations. This was a minor nuisance prior to 2013 when the price of the largest category of credits, D6 Renewable Identification Numbers (RINs), traded for around $0.02 each. The obligation became a major drag on earnings when D6 prices soared to $1.45 by July 2013, however, and annual increases to blending volumes have mitigated the relief provided by lower subsequent prices.
The refiners' man in Washington
Mr. Trump's pundit-defying victory in last November's presidential election and consequent naming of Carl Icahn as an official adviser on regulatory reform gave hope to the merchant refining sector that notable changes to the RFS2 might follow. Mr. Icahn has a large stake in merchant refiner CVR Refining (NYSE:CVRR) via a position in CVR Energy (NYSE:CVI), and prior to the election he had been lobbying strongly for a change to the mandate's "point of obligation." Specifically, he has argued that the point of obligation should be expanded from its current, limited definition so as to also include owners of wholesale and retail capacity (rather than just refining capacity).
Supporters of the point of obligation change argue that retailers such as Murphy USA (NYSE:MUSA) and Casey's General Stores (NASDAQ:CASY), as well as larger refiners with retail capacity such as BP (NYSE:BP), have profited handsomely by selling their excess RINs to merchant refiners at the marketplace's high prices. They find further support for their position in the fact that the blending mandate has not met expectations. It was crafted by Congress to be fuel-agnostic with the intent of incentivizing investment in biofuel production capacity by the refining sector. The vast majority of biofuels produced under the mandate to date, however, have taken the form of ethanol, which has severe limitations to its use in the existing refining infrastructure up to the point of wholesale. As a result even those refiners such as Valero (NYSE:VLO) that own substantial ethanol production capacity have incurred very high blending credit expenses in stark contrast to the spirit of the mandate.
The news, then, that as vocal an advocate of a change to the point of obligation as Mr. Icahn had the new president's ear was seen as a major advantage for merchant refiners, prompting a sharp post-election rally in their share prices (see figure), led by CVR Refining. At the same time, the nomination and subsequent confirmation of Mr. Pruitt as EPA Administrator despite (or perhaps because of) his legal advocacy against renewable energy policies such as the RFS2 was seen as a further sign of a change that would be favorable to refiners.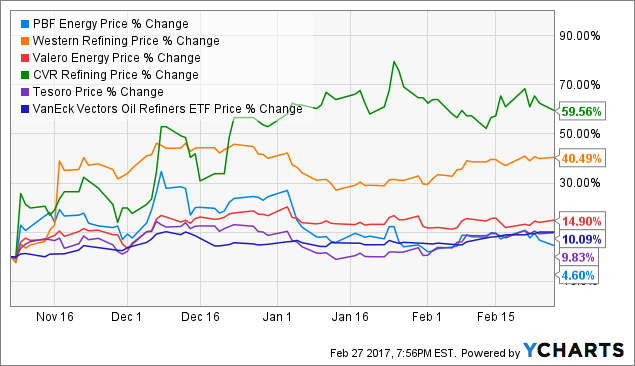 D6 RIN prices in particular have swooned as the Trump administration has taken hold in Washington D.C., falling by more than half in the three months following the election (see figure). This has immediately caused merchant refiners' expenditures under the RFS2 to decline sharply, equaling a reduction that can be valued in the billions of dollars if it holds throughout the rest of the year.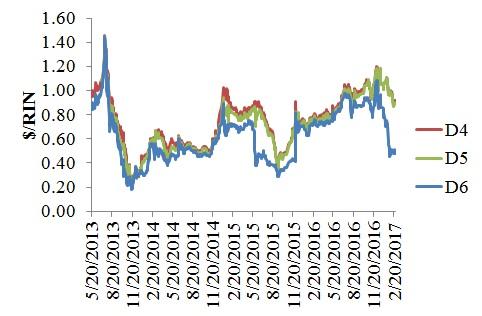 Source: EcoEngineers (2017)
The D6 RIN price has found support in recent weeks, however, as a lobbying pushback to the proposed point of obligation change has found additional support. Berkshire Hathaway's (NYSE:BRK.A) (NYSE:BRK.B) BNSF, Union Pacific(NYSE:UNP), and other members of the American Association of Railroads (AAR) have joined integrated oil and gas firms in opposing the expanded definition. Whereas the integrated firms benefit from large retail holdings that provide them with a competitive advantage against merchant refiners as far as RINs are concerned, the lack of ethanol-friendly pipeline capacity in the U.S. has forced ethanol producers to rely heavily on rail capacity to get their product to wholesale and retail locations. The proposed change to the point of obligation could negatively affect this trade, not to mention potentially ensnare railroads with wholesale terminalling operations under the expanded definition.
In a recent move that further complicates the proposed change's outlook, Senate Democrats including firebrand Elizabeth Warren have stated that Mr. Icahn's advisory position creates an "unacceptable risk" of "conflicts of interest." There is little formal action that the Democrats can take, of course, given their lack of majorities in both the Senate and the House of Representatives. That said, by bringing what had been a tussle between business sectors into the political spotlight, the heightened visibility threatens to change the public perception of the proposed change to one of cronyism rather than fairness.
In the meantime, the companies that are most affected by the mandate, the biofuel producers themselves, continue to oppose any changes to a system that has allowed them to survive more than two years of low fuel prices and poor operating margins. The CEO of America's largest independent ethanol producer, Green Plains, Inc.(NASDAQ:GPRE), flatly stated late last December that Mr. Icahn's advocacy was driven by the fact that he was "on the wrong side of a trade," and the executives at other biofuel producer companies and trade groups have adopted similar stances. Mr. Pruitt has been a fierce critic of the RFS2 in general, and there is a fear in the biofuels sector that a point of obligation shift would be but the first step in a process that would see the entire mandate weakened. The recent news in Politico Pro that the point of obligation change will indeed be made via a yet-to-be-released executive order is likely to prompt an outcry from integrated oil and gas companies, fuel retailers, and biofuel producers alike:
"Bob Dinneen, CEO of the ethanol lobby group Renewable Fuels Association, told POLITICO on Monday that he received a call from a person in the Trump administration informing him that Trump would issue an executive order to change the Renewable Fuel Standard so that oil refiners, like Icahn's CVR Energy, would no longer be responsible for meeting the EPA biofuels mandates. Instead, that job would fall to the gasoline wholesalers who supply fuel to retail outlets."
Investors in Murphy USA and Casey's General Stores in particular can expect their holdings to experience substantial turmoil in the days ahead.
Disclosure: I am/we are long PBF.
I wrote this article myself, and it expresses my own opinions. I am not receiving compensation for it (other than from Seeking Alpha). I have no business relationship with any company whose stock is mentioned in this article.